How to Choose Best Organic Wheatgrass Powder
Does your Wheatgrass contain Pesticides?
Recently Maggie Noodles tested positive for Lead poison.
Few Years back Cold Drinks were found to contain Pesticides.
Have you ever checked to see if the wheatgrass that you are consuming is Best Organic Wheatgrass Powder and free from Chemicals and Pesticides or not?We are not trying to say that these companies deliberately added harmful chemicals to their popular products to enhance its flavor or taste. The harmful chemicals found in their products were a result of chemicals and pesticides getting in our food chain due to rampant and excessive use of Pesticides in our agricultural practices, which accumulates in the soil and the ground water even after many years of their usage usage.
So, it is important to check if the wheatgrass you are consuming is free  from all those harmful chemical or not.
ADWG  SHOP



---
Wheatgrass Growing Kit India
Buy @ Rs600/  Rs500/-
---
Buy @  Rs200/-
---
Buy @ Rs800/  Rs750/-
---
ADWG SHOP



---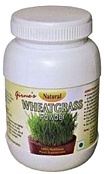 Organic Certified Wheatgrass Powder.
Buy @ Rs325/- *
Free Shipping
*per box price for set of four
---

It is not possible for us to Test every box of wheatgrass we consume for chemicals in a laboratory.
So, what are the things that you should check before you put your trust on a particular wheatgrass powder brand and deem it best and safe for yourself and your family.
Quick Check for buying Best Organic Wheatgrass
Look for Indian Organic / USDA / EU Organic Certification on the label of the box. Don't get fooled by GMP (Good manufacturing practices) / ISO (Certify Quality Management) / AYUSH (Certify Manufacturing process) / FSSAI (Registration of manufacturers, Distributes, sellers  of Food Product) certification as they don't certify wheatgrass  to be organic.
Look for proper address of Manufacture on Box label. Try to Google it to find if they are establish player in the field of Wheatgrass. Choose one with own Organic Certified Farms over Re Packers.
Look for manufacturing Date and Expiry Date and always buy fresh stock.
Health benefits from consuming wheatgrass will be directly proportional to the  care taken by you whilst choosing Top Organic Wheatgrass Powder that contains all the nutrients, enzymes, minerals, amino acid and chlorophyll for which it is known for.
Why to check Organic Certifications and Manufacturer Details before Buying Organic Wheatgrass Powder.
Almost every day we find new brands coming in the Indian Market, all claiming to be Organic by the virtue of certificates they claim to have and it is usually difficult for the users to choose a brand that's best for them.
Choosing the finest Organic Wheatgrass Powder is even more important considering the fact that it is consumed in the raw form, therefore, you cannot kill any of the harmful bacteria that it might contain by cooking it.
Also, as is the case with all the fruits and vegetables, it's possible that it might contain toxins and chemicals derived from the soil and can retain the pesticides and chemical fertilizers used while it was being grown.
Things get even more difficult in light of the fact that nowadays profit making is the main motive of any firm and consumer health usually takes a back seat in the minds of the sellers.
An example of this mindset are the recent headlines, now and then in Media,  about the manufacturers found to be manufacturing adulterated food, beverages and even life saving medicines.
What are the Organic Certifications we should look for in the Organic Wheatgrass Powder we buy for our health?
For a farm to be Organically Certified by any creditable Certifying Agency, it needs to stop the usage of any kind of chemical fertilizers or chemical pesticides for a minimum of at least 3 years. Then only it can apply for certification.
So, if you are a new buyer looking for Pure Organic Wheatgrass Powder you should check to see if the wheatgrass you decide on buying has any such certification, certifying that it was grown on an organic farm.
The most important thing to look for whilst buying any wheat grass powder is to finding authenticate information about the person or the organization behind its sale.
Are they its direct manufacturer or is it just some marketing portal just involved in its sale, either under its original name or under their own new brand name?
If some sellers claim that they themselves are its direct manufacturers, then it is very important to check their farming facilities.
It also important to find out how long they've been in the business of manufacturing wheat grass powder.
Are they just some new players in the market trying to cash in the popularity of Wheatgrass Powder?
Sometimes, many a manufacturers make false claims about possessing certain organic certificates or even going as far as to making up fake organic certificates to win a customer's trust.
Always check certification marks on the label very carefully and the period during which the certification is valid.
All Organically Certified Wheatgrass powder producers have to follow a certain procedure that has been laid down by the certifying authority about how it is to be grown.
The soil in which it is being grown should  be pesticide and chemical fertilizer free for at least the past three years.
Natural fertilizers and pesticide are to be used if necessary.
So, just the fact that that your chosen dealer possesses an Organic Certificate can never be a guarantee for the wheatgrass' quality and/or safety.
You have to look for sellers that have their own farms and manufacturing facilities, sellers that have been in the business for long and practice a very transparent manufacturing process.
Many a sellers just buy from bulk producers and repack it with their own brand name.
These people are never able to exercise control over the farming process, which results in the fact that they can never truthfully assure you of its quality and if its safe for consumption or not.
And not only that, Such bulk producers are only profit making machines and don't think twice about extensively using chemical fertilizers and pesticides for better yields. Which leads to these chemicals and pesticides being absorbed in the wheat grass that we consume accumulates in our bodies as toxins and starts affecting are health.
We are all aware the harmful effects of pesticides as they are poison and are meant to kill.
Unhygienic handling of wheatgrass can also result in addition of various harmful bacteria to it, making it a potential threat to our health.
Buy Organic Wheatgrass Powder from our Online Shop
Click to Buy Wheatgrass / Visit Online Store
We hope you found the above information useful.
Please do not forget to click on Goggle +1 and Facebook Share button on Right Bottom of this page.
Contact us : 09210440671, 08285643316