How to Grow Wheatgrass at Home by Easy Method
If you find it difficult to visit your Juice shop for your daily dose of fresh Wheatgrass Juice.
If you're afraid that your daily dose of Wheatgrass isn't fit for your consumption because it contains a large amount of harmful pesticides and chemicals.
Then the following information will help you successfully grow fresh Wheatgrass in your own home in just a few easy steps.
Step 1 - Germinating the Wheatgrass Seeds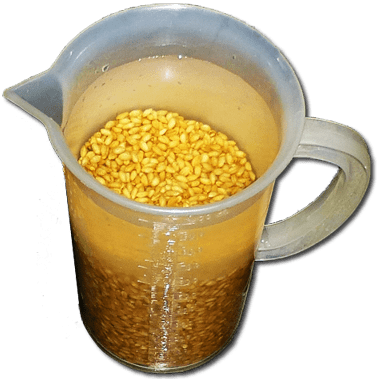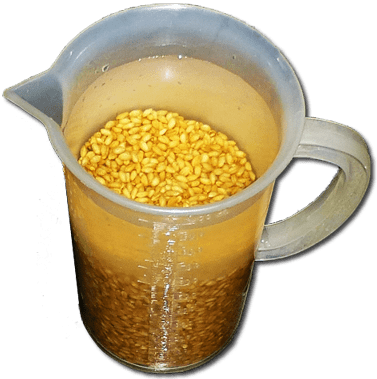 Select Best Quality Seeds for Germination
The most important thing is to buy the best wheatgrass seeds available in the market. All the seeds should be large and equal sized.
Wheatgrass Seeds Germination Method
Clean the seeds, taking extra care in making sure that they are free from any insects or dirt. Then wash the seeds thoroughly with water at least 3- 4 times.
Soak the seeds for 8 to 12 hours in a glass jar or any other container.  After the initial soaking process, drain the water and keep the seeds for germination for 48 hours.
Add water to the container being used, draining it completely after 15 minutes of soaking every 8 hours to help the germination process along. Repeat this process every 8 hours for 48 hours.
Step 2 -Transfering the Seeds in Tray
Transferring Germinated Seeds in the Growing Tray.
You will see small white tails coming out of the seeds after the 48 hours Germinating period. Now carefully spread the germinated seeds in a tray that has some small holes at the bottom. You can take any  food grade plastic tray or an earthen pot and make holes in it yourselves to drain the excess water.
You can either use soil as a growing medium or you can just grow wheatgrass without using soil.
In case you decide to go for soil less, take a thin foam sheet or a kitchen paper towel and spread it in the base of container being used. The foam sheet will hold the moisture for the seeds.
Take extra care as to not break the white tails whilst spreading the seeds in the tray. Spread the seeds in such a way that they touch each other but don't overlap.
Cover the Growing Tray for 48 Hours to Help Root Formation
Keep the tray in a cool and dark place for another 48 hours for formation of roots.
Initially, water the tray frequently with the help of a sprayer so that  seeds don't dry out, but do not let the water stand in the tray or else the seeds will rot or mold will form in the tray.
Growth Spurt Fourth  Day Onward
After initial slow growth you will see that the wheatgrass starts growing faster after the 4th day.
Now, start watering the tray 2-3 times a day, taking care to drain all the excess water.
Harvesting the Wheatgrass
Harvest the tray on the 7th or the 8th day to get the maximum nutrients from the wheatgrass. Cut The Wheatgrass above the white part and store it in a Air Tight Container.
Care to be taken for successfully Growing Quality Wheatgrass at Home.
Always use good quality seeds for better quality wheatgrass.Keep the room temperature around 21 degree Celsius.Tray should not be water logged at any time or else it will allow formation of molds.Do not keep the wheatgrass tray in direct sunlight.Keep it near a window so indirect sunlight falls on it on 5th , 6th and the 7th day
You can also download our Free E - Book - Learn to Grow Wheatgrass in your Home in Few Easy Steps.
Download the Free E Book - How to Grow Wheatgrass
Soil Less Wheatgrass How to Grow at Home Easy Method
Addy Wheatgras Manual Juicer video demonstration - Juicing wheatgrass
Always use Addy Wheatgrass Masticating Juicer to get Real Benefit of Wheatgrass
How to Grow Wheatgrass In Hot Summer Months
In March, we received a comment where a you tuber from Chennai, India,  informed us that he had followed the instructions given in our video and had covered the tray for the first 2 days to facilitate root formation.  But after two days, his wheatgrass seeds had become rotten and he had to abort the entire process. His was a case of high humidity coupled with high temperature.
This prompted us grow our own tray in these summer condition and document it for the benefits of the people who want to grow wheatgrass in their homes during summers as well.
How we got involved with Wheatgrass - the Nature's Boon to Mankind
Our fascination for wheatgrass started when in year 2006 we went to Book Fair at IIFT, Delhi to buy children books for our 3 year old daughter.
By  chance we got hold of a book form Navneet Publication "Panacea on the Earth - Wheat Grass Juice". Being into Acupressure,  Pranayama – Yoga Breathing and healthy eating,  a glance through the first few  pages of the book were enough to buy it. This is how our journey to experiences and experimentation with wheatgrass started.
We started exploring it on internet and were impressed by miraculous medicinal properties of wheatgrass. Soon we want to grow it in our house in Delhi. We tried to understand the whole process from soaking wheat and germinating it tod growing it on small soil filled tray and harvesting it at eight days when wheatgrass is at its nutrients best.
Once we had the understanding on how to grow wheatgrass at home, we decided to take the plunge and arrange for the things needed for growing the wheatgrass in our house in Delhi.  After research we settled for fresh plastic round tray with 2 inch wall and we found it with little effort in weekly Hatt bazaar, a market so common in Delhi. Now we wanted to have soil and organic manure and we got it from local nursery in Delhi. Thankfully it was Winters in  Delhi when the temperature is more or less between 10 to 25 Degree Centigrade's which is ideal for growing of wheatgrass.
We had been sprouting Cereals so germinating wheatgrass by soaking it overnight and then leaving it tied in a cloth for germination was easy.  After germination we carefully place wheat grain sprouts on 1/3 soil filled tray so that it covers all the top soil without any gap. We prepared 2 trays every day till eight day. By eight day our wheatgrass was about 6 inches plus and ready to harvest.  Wow we had our own home grown wheatgrass in Delhi.
We hope you found the above information useful. You can ask any query about growing wheatgrass in Comments At Bottom of this Page.
Please do not forget to click on Goggle +1 and Facebook Share button on Right Bottom of this page.