How to Grow Wheatgrass in Hot Summer Months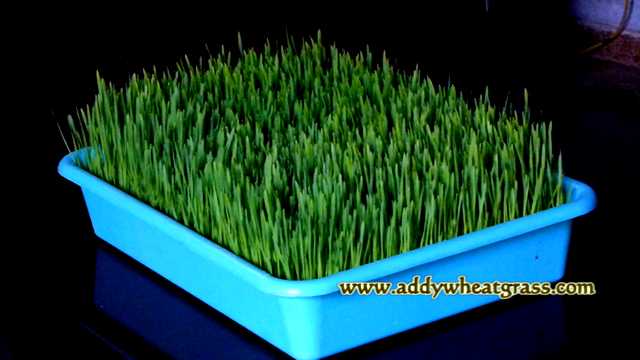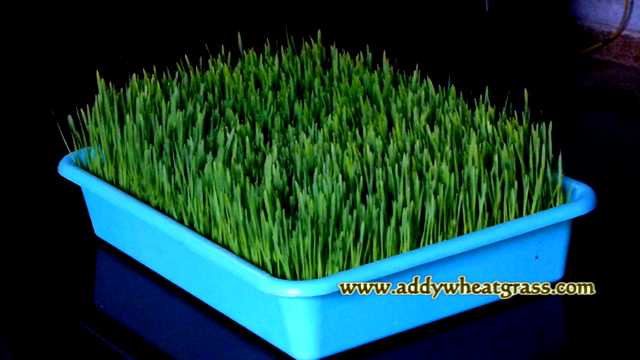 We have already uploaded a video on how to grow wheatgrass at home by soil less method in the first week of Feb, 2017. It was liked and appreciated by you all and we are very thankful for that.
In March, we received a comment where a you tuber from Chennai, India,  informed us that he had followed the instructions given in our video and had covered the tray for the first 2 days to facilitate root formation.  But after two days, his wheatgrass seeds had become rotten and he had to abort the entire process. His was a case of high humidity coupled with high temperature.
This prompted us grow our own tray in these summer condition and document it for the benefits of the people who want to grow wheatgrass in their homes during summers as well.
For wheatgrass growers, summers time has always been a challenge. when the temperature is around 20 degree Celsius, they find it effortless to grow wheatgrass in their homes. Just throwing some seeds in a tray or on soil seems to do the trick, & they are assured of wheatgrass by day 8 or 9
But as soon as winters are over and the temperatures shoot to 40s, they suddenly start facing a ton of problem. Seeds fail to germinate, yield gets reduced by 70 to 80 percent and there is almost always mold formation.
Step-by-step procedure for growing Wheatgrass in hot climates.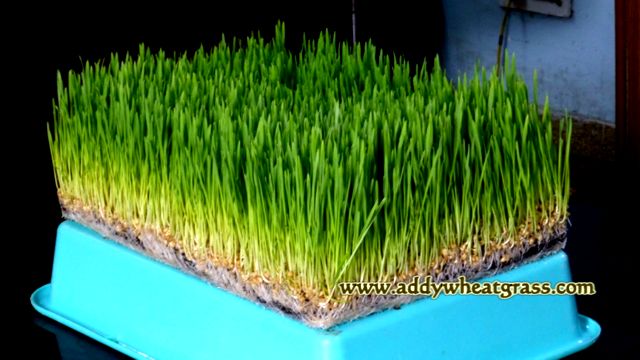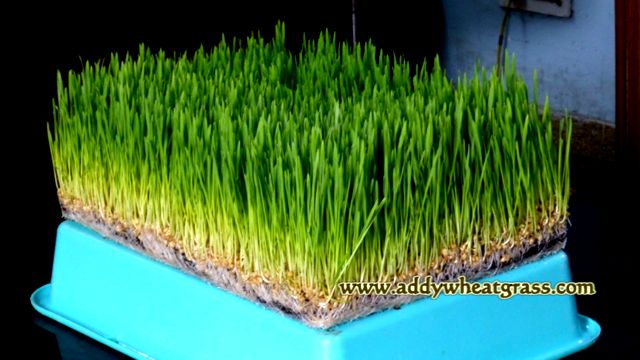 Let's see the step-by-step procedure that we followed to successfully grow the tray of wheatgrass you just saw in hot summer conditions
We will require everything that we used for growing wheatgrass in winters plus two additional things which are pure Neem oil and a jute sheet.
We are using the Addy Wheatgrass growing kit which consists of an unbreakable tray,  good quality wheatgrass seeds with high germination rates and organic growing medium.
How to Germinate Wheatgrass Seed in High Temperature
First step is to weigh out 400 gm of seeds for germination.
Next, Transfer these seeds to a beaker and wash them thoroughly at least two times.
Now, here's an important step that you need to follow for growing wheatgrass in summers
Wheat is a winter crop. It needs cold temperature for its seeds to germinate and grow into wheatgrass.
Ideal temperature for wheatgrass germination is 15 degree Celsius to 22 degree.
Most of the people wanting to grow wheatgrass in summers fail at this very step. Their seeds do not germinate due to being subjected to high temperature and they have to abort the process half way.
To overcome this huge problem, there is a very simple solution. Germinate the seeds in the normal compartment of your home refrigerator.  Keep the soaked seeds in the refrigerator for 8 hours.
Now, you will need to prepare a tray side by side while the seeds are soaking, so that the nutrients in the growing medium are already activated and ready when we finally transfer the germinated seeds after two days.
How to Prevent Mold Formation
Another huge problem that most wheatgrass growers face is the formation of mold in the base of the tray.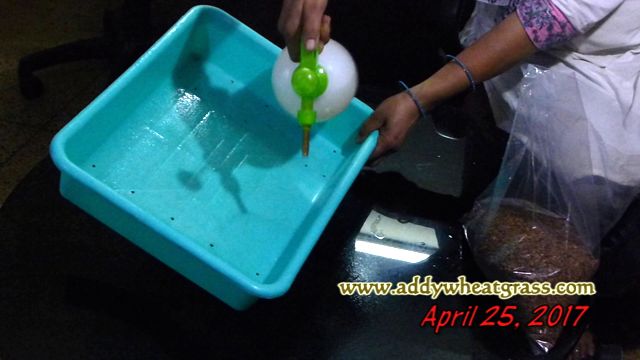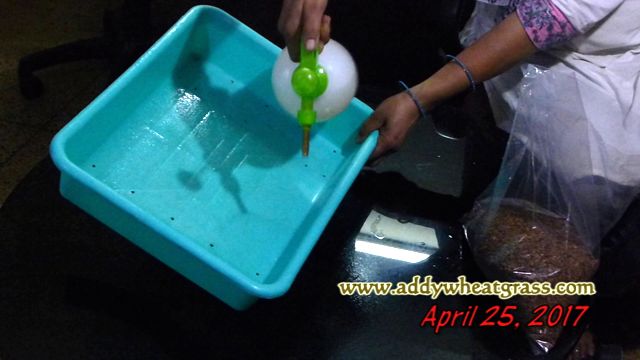 And this problem only gets aggravated during the summers
To avoid this, spray the tray with a solution made with 5 ml of pure Neem oil and a liter of water.
Next step is to make a quarter inch layer of the addy wheatgrass growing medium.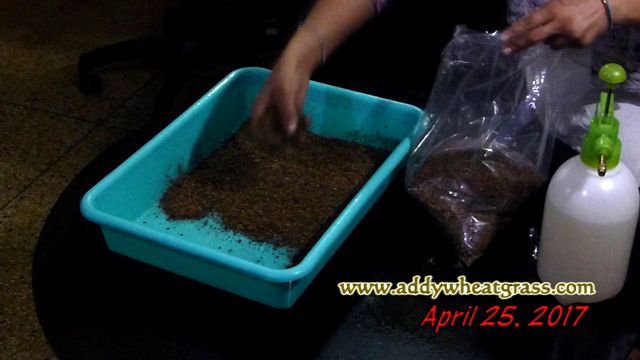 Spray this layer with a good amount of Neem oil water solution as well to get rid of any fungus it might have and to activate the nutrients in it.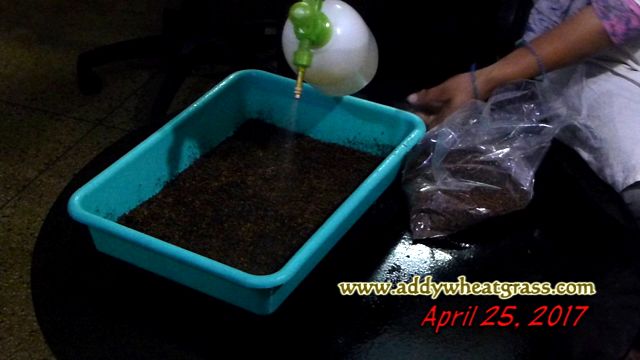 Keep watering the tray with normal water every 8 hours to keep it moist.
After 8 hours we will re soak the seeds for 15 minutes, drain the water and keep it again in the refrigerator for 8 hours for germination.
We found our seeds had germinated in 48 hours and decided to transfer them to the tray.
Transferring
 the Seeds to The Tray
Before transferring the seeds, we again sprayed the tray with neem oil and water solution to eliminate any fungus left in it
Be careful as to not break the white tails of the seeds while transferring them to the tray
Spread the seeds in such a way that they are touching each other but aren't overlapping.
Root Formation
After you finish laying up the seeds, cover the tray with a wet jute cloth and place it in a cool place where you have a cooler or an AC running
Covering it with jute is an important step. Do not cover the tray with paper or a towel as they will trap humidity and heat and the seeds will rot in a few hours
Jute has big weaving holes in it which facilitate air circulation.
And keeping it moist all the time also keeps the tray cool and in turn prevents rot and promotes root formation.
Watering the Tray
Don't forget to remove the jute covering every few hours and check for moisture loss.
We found that it required watering every 2 hours to stay moist.
We also sprayed it with Neem oil water solution once a day for next two days while keeping it covered with the jute cloth.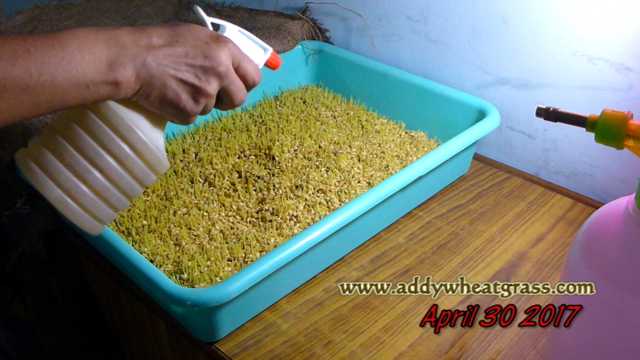 After two days, remove the cover and place the tray under a led lamp of at least 8 watts
Be careful in choosing Neem Oil
Now, a word of caution about the Neem oil you will use for this purpose. Do read the label carefully to make sure that its pure Neem oil and that they have added no other chemical pesticides to it.
Those who are concerned can also buy organic Neem oil that is fit for human consumption.
But pure Neem oil should be good enough, as long as the label says that you can safely spray it on vegetables and fruits meant for human consumption.
Tip for Germinating the Seeds
Here's a tip for germinating the seeds in the refrigerator
While the germination process is going on, you need to observe the seed for white tails coming out its end.
We found white tails were slow to come out compared to when seeds are left outside for germination.
So we decided to keep it out of refrigerator for approx 1–2 hours during the 8 hour cycle, which quickened the germinating process.
You need to keep checking seeds for any funky smell which might suggest rot setting in
If that happens, wash the seeds and keep them in the fridge for longer periods and lesser periods outside it
Sudden Spurt in Growth after Day 6
As you can see with each passing day wheatgrass growth is picking up and it had a sudden spurt in growth from May 1, which was day 6 of the total nine day process.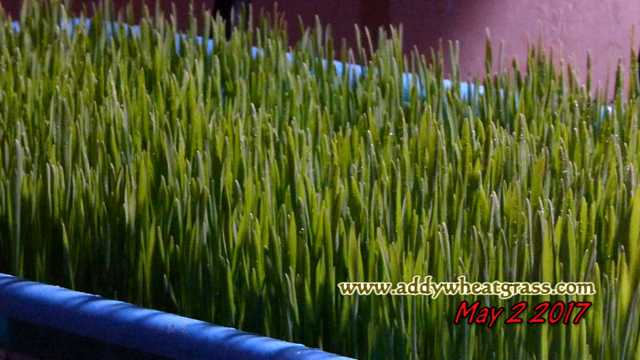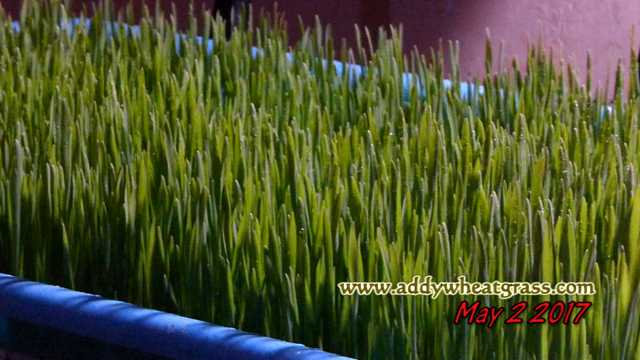 Important Things we Followed to Grow Wheatgrass in Summer
We always had the led lamp on and cooler was running for 12 hours approximately every day
The temperature it was kept in had a high of 31.1 degree Celsius and low of 27 degree Celsius
We kept watering it every 2 to 3 hours
We checked for mold and the smell of rotting but didn't find any.
Our trays had many holes, which ensured no water logging.
Excess water quickly escaped the tray within minutes of watering.
That helped a lot in preventing any root rot.
Success
On May 3, which was day 9, we had a full grown tray.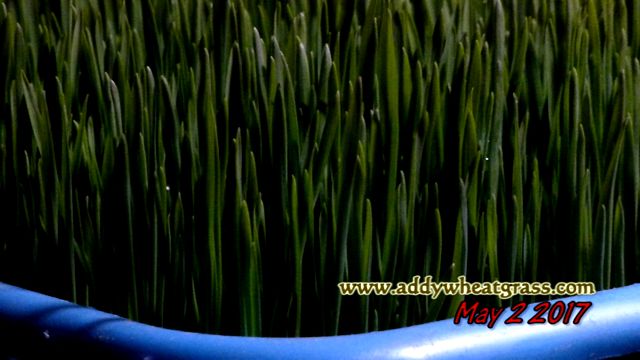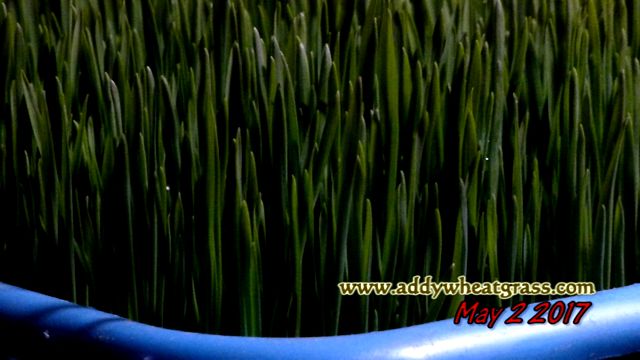 We have been in the wheatgrass business for 7 years now
And have been providing premium quality wheatgrass to its consumers in Delhi for many years.
Honestly, on day  9, there was very little difference between the home-grown tray in summer hot condition and the one grown in the hydroponic machine in a fully controlled environment.
Germinating the seeds in the refrigerator and the use of wet jute cloth gave the seeds a solid start helping them withstand the high temperatures between 27 to 31 degree Celsius and yield lush green wheatgrass.
Continuously using 8 watt day light type led lamp during the last 3 days also played a crucial role as it acted as the sun for the tray minus its heat
Now after successfully completing the process, we can confidently assure you of similar success but only if you follow every bit of information and procedure shown in this video.